Knitting as popular as ever. On page 44 of the magazine 'Bon Appetit' they show the super-eco shopping bag, knit with 6-ply hemp yarn. Available on Etsy. I think that is so cool, I mean to be mentioning the knitting part in a food magazine. Wow, and the price for the bag is cool or maybe we should say hot - $75.
I need some extra income too. Knitting it is not. If you own the Yarn Harlot Page-A-Day calendar, page March 12th said something in that direction. Knitting was done to provide family with clothing.
My grandmother and mother used to knit socks out of every kind of yarn they could find during WW2. They even unraveled the lace kitchen curtains, so they would have socks and mittens to wear. My mom says she could still knit socks blindfolded, but she would never knit one again even if she had to. And that is exactly the point why knitting would not provide for a little extra income for me, because it would become a chore and I just like to knit when and whatever I feel like. And I only want to knit the project once. That's kind of why socks are not my favorite project.
Maybe I should start selling fairy dust.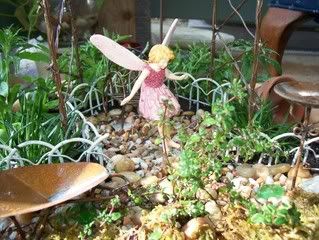 Over the weekend I had finished my dad's one-row scarf and it turned out beautifully. The Mirasol/Tupa yarn was a pleasure to knit, the scarf feels soft, yet it still has a heaviness to it, so it will drape closely around the neck and keep the owner warm. My dad needs that as they live in a region in Germany where the snow does not melt before April/May.
Then I could not wait to start a new project. Last night I fiddled around with the the Prism/Saki yarn that I had bought during my New York trip. I decided to knit the
Wabenschal
by Birgit Freyer with the blue colorway of which I only have one skein, 440yards.
I started making swatches with different needle sizes, starting out with 3mm and finally 5mm. In the end I chose 4mm and I cast on the scarf today at lunch. I love the color of the yarn. The blues run into purple and green in a whimsical way and it is just perfect for a shawl or scarf. The pattern's width runs five diamond shapes across, actually Wabe means honeycomb. I might add two more, making it seven. I'll see when I get there.
And by the way, my new dream is, buying a mountain cabin and making fairy gardens. I will knit scarves for them when it gets cold in the winter.