The ruffle shawl has arrived in New York and was liked by all. I think it would go perfectly with Trudy's complexion.
Here it was modeled by her best friend Cooper in California.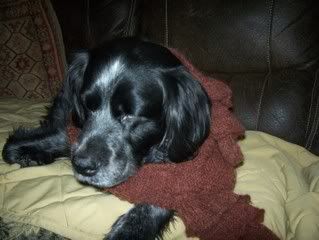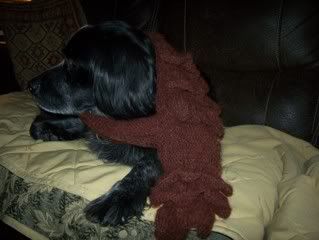 Ruffle Shawl Details

Needle: US 8 / 5.0 mm
Yarn: Crystal Palace Yarns Kid Merino
1 skeins = 240.0 yards (219.5m)
Colorway: 4673

**************

Currently on my needles: a sock. The Hedgerow Sock, by Jane Cochran. Yarn:Wool2Dye4 Sockyarn, dyed at home with tumerick spice.
I am not really a sock-knitter and I really don't know why I do not enjoy knitting socks as much as a lace pattern shawl/scarf. Maybe because I have to knit the same thing twice. Same with sleeves, don't like them.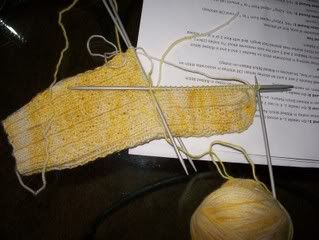 But every time I do knit a sock, I am amazed at the pattern in progress, going from a tube to a heel flap to a turned heel and suddenly it looks like a sock and it was so easy, even though the instructions sounded incredibly difficult. It's a joy.