.........from standing in the kitchen all day Sunday. After two years, I finally had the urge to bake cookies, the German-style Christmas cookies - everything from scratch. Like, shelling hazelnuts and grinding them to fine crumbles, same with whole unsalted almonds. You need a lot of those for the cookies. That was prep-work on Saturday. I used an old coffee grinder I found in the back of my cabinets that I had bought just for that purpose, grind nuts and spices, if it ever came up in a recipe.
I also used an old recipe book I received from my grandmother and while leafing through it for recipes I found her notes, such sweet memories of a sweet person.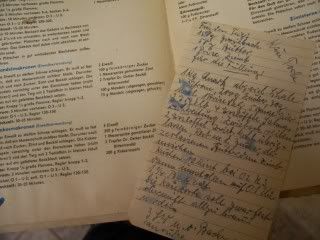 So the kitchen looked messy all day,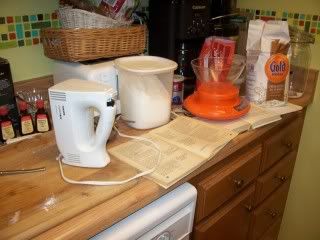 but the results were delicious:
Kokusmakronen
(Coconut Macaroons - unbaked)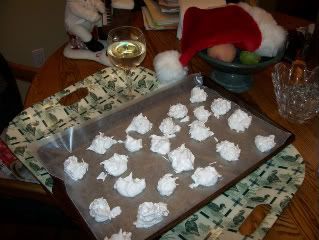 and after they were done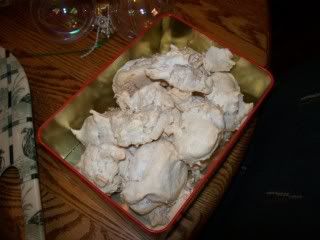 Vanillekipferl
(Vanilla Crescents)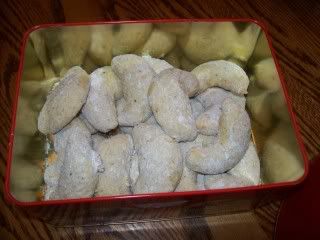 Zimtsterne
(Cinnamon Stars)
and not to forget
Muerbeteig Plaetzchen
(Sugar Cookies)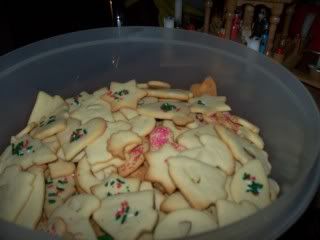 I packed up a few little gift bags and distributed some here at work. Everyone loved them, and that just makes it worth the effort.
(Especially Teenie's who wanted to help and made about 12 of them before she got tired)
Lange nicht mehr in deutsch geschrieben. Gestern war alles so schoen heimatlich. Es duftet nach Tanne und Gebaeck zu Hause.
Ich habe abends immer einen kleinen alten Wassertopf auf dem Herd mit Orangenschalen, Zimtstangen und Nelken, der so vor sich hin brodelt. Der wunderbare Duft breitet sich im Nu aus.
Den ganzen Sonntag habe ich in der Kueche gestanden und nach einem alten Dr. Oetker Backbuch, das meiner Oma gehoert hat (Druck 1961), habe ich sogar recht unkompliziert vier verschiedene Plaetzchensorten gebacken. Obwohl die Kueche so klein ist, war es doch nicht ganz so strapazioes, wie ich es mir vorgestellt hatte. Genau der Platzmangel laesst mir vor so umfangreiche Rezepte grausen. Aber dieses Jahr hatte ich so besonders grosse Lust darauf. Und sie sind mir auch gut gelungen, wenn ich das so sagen darf. Kokusmakronen, Zimtsterne, Vanillekipferl und die Muerbeteig Kekse. Es kommt doch weihnachtliche Stimmung auf (trotz des warmen Wetters).