It is quiet at the office today and I have played around with the layout of my blog a bit. I liked the photos of our Christmas Tree and added them as a strip instead of inserting them into a blog entry.
Then I read about Ilike.com where you can add your songlists. I just chose a few but am very proud to find my son's name also among the artists, so I listed his tunes too, of course. His are electronic or trance mixes which actually can put you in a trance- like state without the weed. Really cool, especially if you can sit with him while he kind of 'composes' them on his laptop. A very complex procedure and he loves it and I think he is great at it. This is where you can find his
webpage
.
Anyway, back to the knitting content.
I finished the gloves for the teenie some time ago.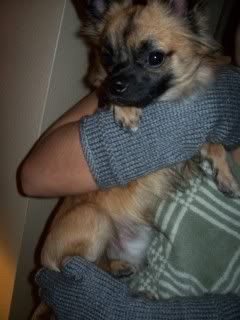 They look great, but isn't our pooch a cutie too?
And here is the artistic shot: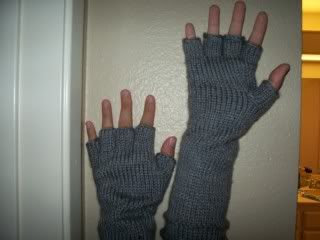 The pattern was made up as I knitted along. Not too difficult:
Cast on 38 stitches, knit in the round. (first needle 10 st, second needle 9 st, third needle 10 st and fourth needle 9 st)
First three rows knit into back of stitch to create a nice rolled edge. After 10 rows I purled one row - just because.
Right hand: After about 10 inches knit four stitches on the first needle, (I know which is my first needle - using 5 dpns), place 4 stitches on waste yarn for thumb, cast-on (backward loop) 4 stitches and continue to knit in the round for 1.5 inches.
Now the fingers - which will be knit individually:
And as this is too complicated to explain and I need some time to word it right, I will stop right here. I cannot write patterns, I am sure that there are free patterns for finger gloves on the web to look up. If I ever have the patience to write it down, I will definitely add it right here.......
Or even better yet, just bind off and you have a fingerless glove without the finished thumb but that can be winged too. So, have fun with it.
Isn't that why we all have signed up on Ravelry?
Have a nice Monday all.
Die Handschuhe sind fertig und werden auch schon getragen. Sie waren einfach und schnell und als ich versuchte, die sogenannte einfache Anleitung niederzuschreiben, fand ich es gar nicht mehr so einfach. Ich kann es kaum beschreiben, wie die Finger einzeln gestrickt werden, ich rechne, dividiere und teile ein in Finger und dann geht es einfach los. Nie so ganz perfekt, aber das Ergebnis ist gut. Also, ueberlasse ich es der Strickerin sich im Internet die noetige Anleitung zu holen, evtl. auch bei Ravelry. Deswegen haben wir uns ja alle angemeldet.