YOU ARE A PRACTICAL PERSON WITH YOUR FEET ON THE GROUND.
Yes, I think I am. Practical all the way, feet not always on the ground, but trying to stay grounded. Practical in the sense of level-headed, efficient, and unspeculative, resourceful, I would even say frugal, sometimes cheap which often does not come cheap in the end (like when you are too cheap to buy good quality).
I buy one chicken and make 4 meals out of it, chicken-noodle soup, chicken tacos, chicken fricassee and a bowl of dog food. All lasts a week.
Frugal, well, there are times when you just have no other choice. My kitchen project kind of started that way, after we painted the walls, a nice celery, lettucy green, I saw these great glass tiles for a backsplash. There is not much of a backsplash to be seen behind my stove because the microwave/vent is so low, but still it would give the whole kitchen with its old countertops and cabinets a nice 'umph'. And every magazine is showing off these beautiful kitchens. Yeah, but not affordable right now. And even if we were to buy expensive Italian tiles, with these old cabinets, I don't think so. But I want a little more color, give the whole thing a kick. Right? So I had this idea of painting the tiles myself. I started to draw on paper, color some sample tiles and think about it for a long time. Finally one part of the wall is finished and I love it. I decided to paint tiles around the kitchen as border and it will look just great.
Here a picture of the not yet finished wall.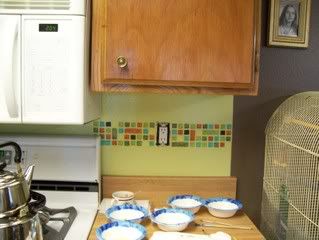 And here are some of the summer top in progress.
I found out that I can knit with my eyes closed. Actually I was enjoying the evening breeze on the patio and almost dozed off, but my hands kept moving , when my teenie walked over and said something like, are you knitting in your sleep? Yep, almost.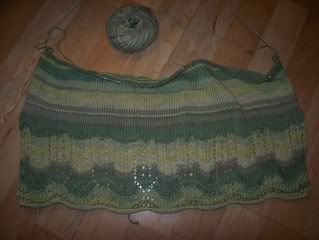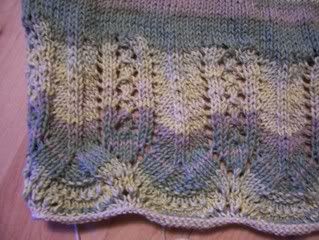 And look at our little pooped pooch…. Don't you just want to squeeze him?