Finally a three-day weekend coming up. Happy Fourth to all who celebrate this holiday.
Our original plan to visit family in the Bay Area got canceled as Mister has to work on Saturday. So now we have no plans at all. Which is nice as I can rest and work on some projects. Luckily I also had an invitation to a grill party on Friday in my Inbox, so we can also socialize a bit, not being the total hermit for all three days, which I prefer to be.
Last weekend gave me a few restful hours too. I had to check on the house and the cats of a friend who was attending a family reunion in Washington. So on my way to her place I bought a luxury item - a Starbucks Vanilla Latte, yes I splurged and got the Grande. Actually, I had a giftcard. Arriving there, of course no cats to be found, they always hide, so I just cleaned the litter boxes, filled up the water and food bowls and then brought in the mail and the newspapers. Took my coffee, the paper and went into the backyard which is really nice with a big Koi pond and lots of shade. There I found an hour of solitude. No one around to bug me or nudge me or talk to me. I listened to the birds, watched the fish and just relaxed. That was the highlight of the weekend.
As I was in the La Mesa area I decided to stop by the LYS
Two Sisters and Ewe
. I just wanted to look and touch, but I found this and just had to get 6 balls: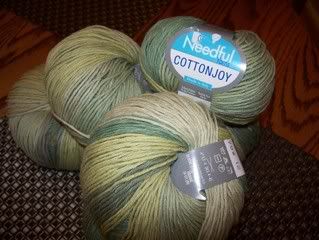 Needful Yarns - Cotton Joy in a green colorway
- the second highlight of my weekend.
And how did I spend my Saturday evening? I browsed through my patterns to find the perfect tank top. I chose a pretty simple one from a German 2005 ONline Stricktrends and could not help myself and for the first time I knit a swatch. It does not match and I don't care. But at least I know what is different. The model I chose uses an ONline yarn with a gauge of 27st by 34 rows (10x10cm) and my yarn with a 3.0 or 3.5 needle (yes I swatched with two different needle sizes) is 23st by 32 rows. Close. If I stick to the pattern my object will be wider and shorter a bit. But wouldn't that be my body size anyway? Wide and short....??? ha ha.... Perfect.
I guess I will do some adjustments on the way. The lace border is fun and looks great.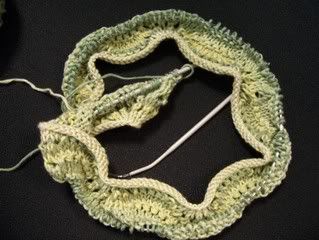 Lots of knitting to be done during the holiday and if I can squeeze in some time will try to continue on the kitchen project - drawing and painting. Sounds like fun too.
Have great weekend.