This season's
Knitty.com
is here. And again it has a few patterns that I like:
Inverness
a very cute jacket. And this cute
shopping bag
. So many creative knitters out there.
I am still fiddling along with my swallowtail shawl. Finally I am at the last repeat of the first bud lace pattern. But I think I will make it larger and end up with 19 repeats. So five more to go. It's a nice and easy knit, just do not have that much time.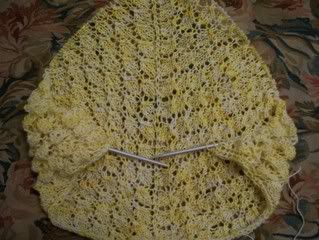 No other project on the needles. Oh, that's a lie, I do have others cast on, they are just hiding under the bed. I should go look and list them one of these days.
I was counting something and used my index finger to trace the stitches or the lines or something, when I notice my finger and looked at it more closely. It's my right index finger. Nothing remarkable about it, but it is slightly slanting to the right, leaning against the middle finger. Just like my grandmother's. I can still see her hands and mine look just like hers. She would do her nails till the end (at 73 I think) and always tell me how important it was to have clean underwear in case you were involved in an accident and they had to take you to the hospital and how embarrassing it would be to find a safety pin on your bra. Well, I guess all mothers and grandmothers say that. This grandmother was called Oma "Laden" – Laden meaning store in German. Because for the longest time her family had a little grocery store. The other Oma was called Oma "Garten" because she had a garden and a weekend cottage or as they call it in Berlin "Laube" in "Berlin-Lichterfelde".
I loved that grocery store. We used to visit Germany every other year in the summer. (This was during 1958 and 1979) and the first thing for me was to go into the store from my grandmother's apartment which was located above the store and had access from the living room and grab a glass of 'Wiener Würstchen' and a bag of 'Haribo Gummibärchen'. They had everything in there, coal, potatoes, candy, sodas (Sinalco), beer (Berliner Kindl), fresh produce, eggs, ham and cheese, milk, dill pickles in a barrel, etc. I still have a box full of plastic figurines which came along with the deliveries. "Marketing Tools?" Like a teddy holding a flag, I think that was the coffee creamer company, or Sarotti chocolate – a little boy wearing a turban. I could spend all day in that store or in front of it and play on the sidewalk. Next door was a small drugstore "Seifenladen" The owner also lived in an apartment above and everyone knew each other since the war. She would always be so nice to me and give me a soap bubble game, you know the little metal hoop dunked into a soapy liquid and you blow the bubbles into the air. The company
Pustefix
still exists. I love it, another teddy. Anyway, I miss my Oma and think often about her, because she was such a gentle, funny and adventurous person. All the young people loved her. She had to sell the store after my grandfather passed in 1963. The building and store are still there.
This is me standing in front of the store in Dezember 2007. A coffeeshop and bakery is opening soon. Too bad no one was there, because I wanted to stop by and talk to the owner and show him a picture of my Oma standing in her store.
Oh my, I have really wandered off here.... by just looking at my finger.