There are too many projects that I would like to do and too little time.
Like
Muir
and the
French Market Bag
, which would be my first felting experience.
Muir never really took off. It was the yarn that did not seem right for Muir. I am going at it again with the Kid Merino by Crystal Palace Yarns. Stitches are cast on, just have to get started with row one.
But in the meantime I started the Swallowtail Shawl which was shown on Knitty Daily just recently using my yellow self-dyed yarn.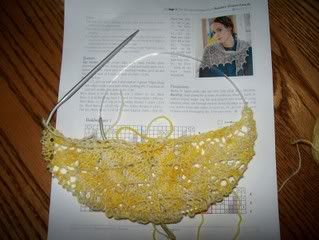 This is my first triangular shawl and I like it. The instructions are clear, the charts are clear except for the 2 border stitches shown as a little square box with a dot on each even numbered (return) row - Purl on right side, knit on wrong side. It may be me, I just don't get it, because these same stitches are charted with a square on all the right side rows - knit on right side, purl on wrong side. So, which is it? Hmmm... it may be my first triangular shawl but certainly not my first chart reading. So, the first two stitches of each row are garter stitches, I guess, that makes sense.
It's not only the knitting projects that I look forward to finishing, but my mind is full with other crafty ideas. I would like to start sewing. I have a sewing machine, I have about 10 old discarded denim jeans and multiple visions of what I could do with them. I have even drawn a few patterns for some really cool knitting needle holders...
Ah, and then there is the jewelry making. Don't we all want to make jewelry. I want to get into that as I have so many beads. I bought these books from Amazon:
Making Silver Chains
by Glenn Waszek and
Bead-Wire-Making
by Sharilyn Miller. I love both books. Glenn gives great insight to the basics of the tools and material you can use. The instructions are clear and the diagrams are helpful. Can't wait to make my first chain. Sharilyn gives step by step instructions with precise images. I always wanted to learn wire wrapping methods and she makes it look easy.
But that is not all. Now that the new sofa is going to be delivered this weekend - we are so excited about that - we also want to repaint the living and dining area. So I have been picking up a lot of paint swatches from Home Depot. My sister suggested to start with paper and coloring pens. I want to paint an accent wall and a chair rail with the same darker color, so I should try it out on paper first to see what kind of effect it would have on the rooms. I think that is a great idea. Of course if I repaint the dining room, the kitchen has to be redone too. That's where it gets all out of control. With new paint I need new counter tops, ok, then the cabinets need to be upgraded too, it would not look right. Of course, with new cabinets I would like to have new appliances, more energy saving ones, right? I guess I have to stop right there. A bucket of new paint will do. There is one idea that I cannot get off my mind though. Tiles for the backsplash, these, in the brown tone: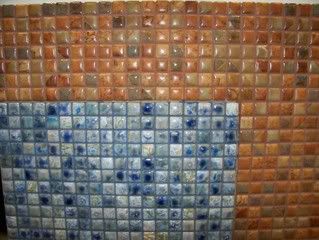 My dilemma is that I do not get home before 6pm, then walk the dogs, then cook dinner, clear the kitchen and by the time I am done, I am exhausted and it is already 9.00pm. I am sure that the majority of women are in the same situation and I ask myself where do they get the energy to do all the things they like to do? I have about 3 knitting rows worth of energy left before I fall into bed. It is time for me to retire, I wish.
Oh, I forgot all about my patio - need to replant my boxes.....tomatoes, peppers and a lemon tree are on my shopping list.