Having an unemployed husband at home for a year has only one advantage, you get taxmoney back in March. Ours will be invested in a new couch. The old one (a 2-seater) is painful, meaning that your back hurts after you sit on it for too long. Also, it is always occupied by Number One Dog. We usually sit at the dining room table, the chairs are comfortable, must have been good quality, as they are still great after 13 years of use. No need to change that set.
New stuff also makes me want to throw out the old stuff, so the last few weekends were workdays at home. Yesterday we cleaned the storage closet on the patio and threw away 5 trash bags, and that was really trash, not something that you could have donated or sold on ebay. It was expired food, soda cans from 2003, and why did I keep 3 bags of brown sugar, that have turned into solid brown brick?
Anyway, we have now for sale:A chair, a loveseat/bed, a bissel carpet cleaner which I will post on craigslist. More to follow.
I have bought some kid merino by Crystal Palace and I decided to try the Muir shawl with that yarn.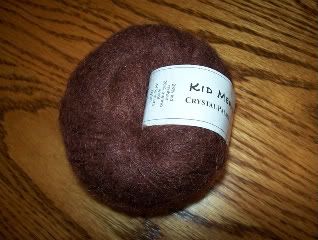 It is a nice chocolate brown and so soft. (Oh, the couch we were looking at is also brown, Moroccan chocolate)
But first I must finish my Mr. Greenjeans Cardigan. Both sleeves are done, finally.
I was researching about a large company because I got invited to an interview. How exciting, maybe I will get a chance to change to a more exciting and satisfying job. Sure hope so, because I really do not feel comfortable at the current place any more.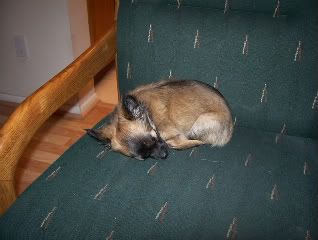 See, my companion, while I was working at home - oh by the way, that is one of the dining room chairs, they seem to be indestructable.