I had a really nice weekend. Starting off on Saturday with the San Diego Wildfires Blankets Project (see link on the right) where I met so many nice knitters and crocheters eager to assemble squares for the fire victims. A really great project and it was fun to help out. Each table was already stocked with a bag of supplies (crochet hook, scissors, needle, measuring tape) and matching squares for one blanket, which either needed to be stitched together or which needed a crochet border.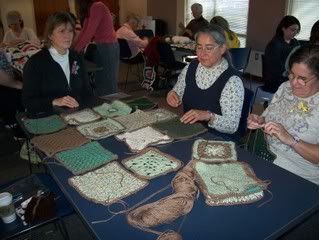 I joined a table with three ladies and we just got going in adding a row to the squares. After 1.5 hours we were done with all (I think) 24 squares and now we were eager to start sewing.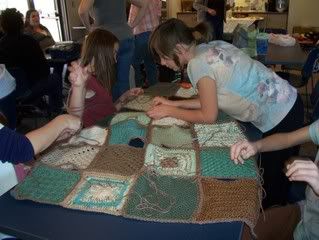 But a group of non-knitters/non-crocheters got our squares to assemble and we changed tables to a new project.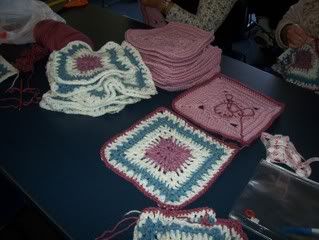 It was funny how all four of us kept looking over at "our" blanket and watching the progress. We were amused that we got so attached to those squares. I will be there the next time.
Das San Diego Wildfire Blankets Project ist eine tolle Idee. Ich habe dieses Mal mitgemacht und geholfen, Patchwork-Decken fertigzustellen. Die Organisatorin hatte schon Tische mit gestifteten Quadraten vorbereitet und auch Haekelhaken, Nadeln, etc. zur Verfuegung gestellt. Ich gesellte mich zu einem Tisch und wir vier fingen an die Quadrate mit einer Reihe fest Maschen zu umhaekeln. Dann erhielten wir einen anderen Tisch, und neue Quadrate.
In the evening we drove up to Santa Monica to meet up with a few old schoolmates from the German School in Tehran. Destination was a mexican restaurant called Lula Cucina Mexicana, where we had a reservation.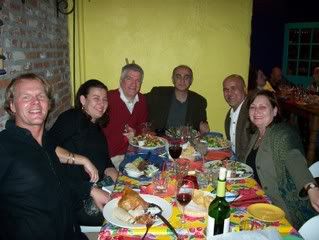 Nice place, but too loud to sit and catch up on a few years. One of the guys is the much younger brother of a classmate of mine, and another guy was in my sister's class. Age difference is no issue today anymore, and we had a great time, lots of laughs and good food. Followed by an ice cream at Ben & Jerry's and a gin tonic at an Irish Pub. We will get more people from California together and set up regular meetings this year.

Tonight at work we are throwing a baby shower for our HR admin. She is such a sweet gal. Actually, on bedrest since yesterday, doing better today and her mom will be driving her over here today so we can still go ahead with the shower. I knit her this set which I embellished a bit with braided strings.