At year's end or beginning a lot of blogs are listed as 'best' in their category. I love these lists because they give me a chance to discover new blogs that I can add to my favorites.
I found this list through
Norma's
blog:
The Fourth Annual JenLa Knitblog Awards
.
Yes, they had already published these on December 31st, but I am slow and I think that the whole year 2008 will follow this pattern, of me being slow.

Here are a few new blogs chosen randomly that I enjoy reading:


Uberstrickenfrau
Purling Oaks
Purling Dervish
Shut up and knit
Farmgirl Fare


Or check out the site where you can vote for your favorite blog of 2007:
2008 bloggies


No big storms hit us in SD this past weekend, but a big one did some destruction in the Bay Area up north. We had a lot of rain, which was nice, because we need it here and because I felt like I had a good excuse to be lazy. I finished my little baby project that I want to give to a nice colleague for her first baby shower next week. Socks and a hat. The hat I designed myself but did not make a lot of notes. If I am not too lazy I can write it down and maybe post it here. The socks are from a very old German knitting magazine, the cover is torn and missing, so not much details there. Also, I noticed that the instructions are very basic in these old german magazines. They assume that you know how to knit socks in general. "Cast on, knit cuff" - no explanation that you need to distribute your stitches on your dpns.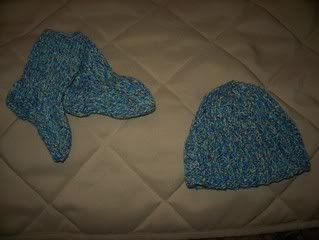 I also added my new stash additions to Ravelry.
These two yarns I bought in Kempten/Germany. There was a really nice yarn store in downtown which is a pedestrian zone only, but it was closed. Hope to visit soon again.Very nice to walk about, but not at minus 10 degrees Celsius..... Kemptner WollparadiesTel(08 31) 5 23 93 77An der Sutt 887435 KemptenHere is a new sock yarn by Regia which is 6-ply and very soft and probably very warm too. Country Color in blue.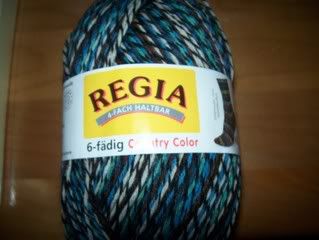 The Opal yarn in blue-green is based on art by
Hundertwasser
, this one is called 'Der Blaue Mond' (blue moon). I really like the color and hope it will knit up in a nice pattern.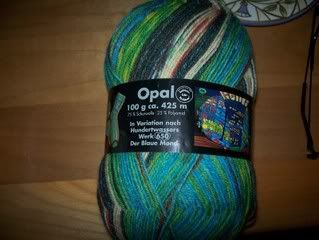 And here is a novelty yarn that my sister gave me for Christmas. It is orange and purple. Not really my colors, but I thought I can try to knit a long scarf and see how it turns out.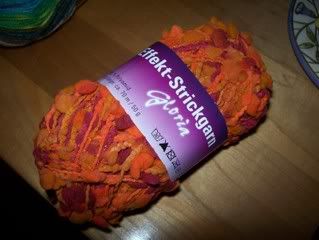 I started it during lunch hour in my car. Knitting on the Road.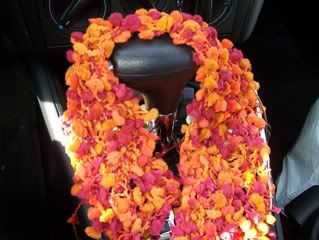 See my cute little
Ice Bear Knut
. We did not get to see him at the zoo in Berlin, time was too short, but he is represented all over Berlin. I have this tiny guy on my gear box. So cute.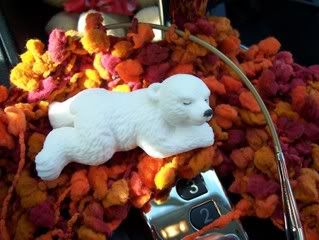 I still want to report on our trip and add some nice pictures. All were taken with my daughter's camera and I guess we have more than 700. So a lot of sorting and editing is still to be done. My mood is getting better. I need to get out again, so last night I joined my knitting group "Infinite Knitters" who meet every Monday evening. It was nice to see all again and catch up with latest finished projects. Attendees were Liz, Carol, Brandi, Jo, Patty, Nancy and Lupe.I have also planned on attending the Wildfire Blankets Project this Saturday in Poway to help assemble squares for the blankets. Hope I can get out of bed early enough.Then on that same evening we are meeting some old friends from my school. Yes, we are scattered all over. Nadia is visiting from Germany and she contacted the Southern California members to see if they had time to meet for dinner. We will go the a Mexican restaurant in Santa Monica. Looking forward to that.