This has been one crazy week or even two. I was stressing out between the planning of a sales conference at work and the evacuation from home during the fires. And both was happening at the same time. But we have moved back home, the sales conference is over and I can say that almost all is back to normal.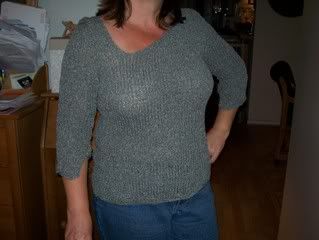 I finished the sweater. And I really like the way it turned out.
The yarn was by
Knit One Crochet Too
, and I had found it in the bargain bin at
Knitting in La Jolla
. I only used up 350 gr and I made no changes to the pattern. It fits and I like it. The sweater is knitted in stockinette stitch and it makes the yarn turn into a soft and somehow thick material. Perfect for San Diego fall and winter.