Our next stop was Encinitas which is located at the coast 20 miles north of San Diego.
We spent a lot of time at the
Black Sheep
. It was nice to sit and browse through magazines while choosing from the large selection of cotton yarns, my favorites. They also carry a lot of silky yarns in beautiful exotic colors. But I prefer cotton and I found a bag of 10 skeins of
Filatura di Crosa
in blue for $31.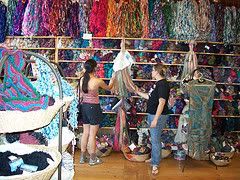 The Black Sheep
Next and last stop was at
Common Threads
. This shop seems small but it stretches all the way back into the building. Shelves/cases full of yarn of all type. It starts out with a kind of a color theme. The second room holding silver, black and greys. I am sure that you can find any yarn you will need. I got dizzy going from one room to the other. I enjoyed the three ladies who were sitting in the first room/entry area around a square wooden table and knitting and chatting away, helping each other with their projects. One of them explaining the confusing instructions to the other. And of course there was some gossiping going on about a girl getting married...Just as if they were in their own living room.
Further in the back of the store I did see some yarn that I really fell in love with -
Berroco - Love It - Colors
colorway "Monday Monday" (na na nananana..) - (just thought of the Mamas and the Papas song).
Actually, all the other shades are based on old familiar songs too, like Hotel California, Lucy in the Sky.... I love them all. But since I had already spent my money for this trip this will have to wait until next time.
I received a lot of compliments in every store on the
green
sweater that I was wearing, on purpose of course, that day. That made me feel good. The Saturday was perfect and I had a great time and I met new friends. Here are the treasures we found that day.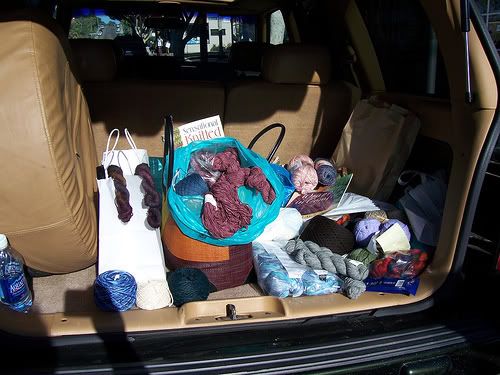 Our treasures
Returning home, later than I expected (teenie was already impatiently awaiting me - seems as if she set up a curfew for me) I could not resist but to start a swatch of both of my new yarns.
The Meringue knits up nicely. I used 7mm circular needles on this swatch 14st/18rows = 10x10cm/4inch stockinette.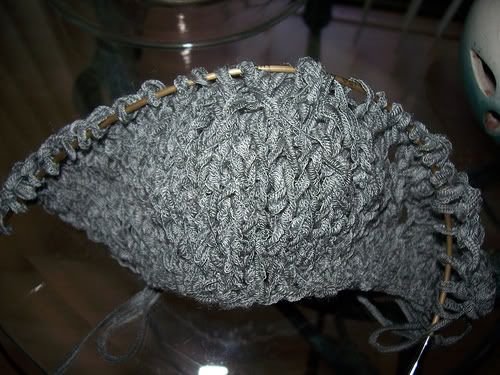 Meringue swatch

The cotton yarn is even better, it knits great with 5mm 18st/24rows = 10x10cm/4inch stockinette. I am eying the pattern
Mr. Greenjeans
in the Knitty.com 2007 fall issue by
Amy Swenson
.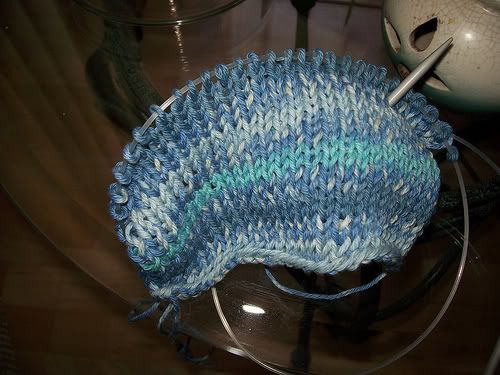 Filatura di Crosa swatch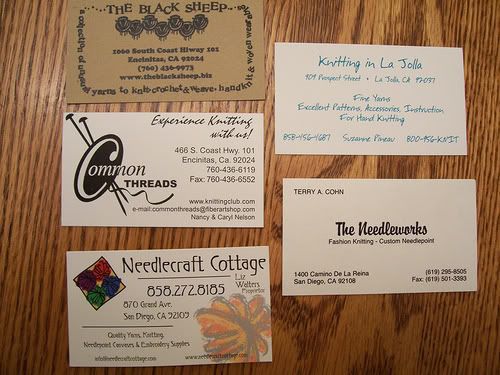 Yarnstores visited