Das war mal wieder eine ereignisreiche Woche, die wir ueberstanden haben. Letzten Montag wurden unserem Teenie alle vier Weissheitszaehne gezogen. Das ist hier Gang und Gaebe wenn man 18/19 ist - gleich alle vier auf einmal. Natuerlich mit entsprechender Narkose. Aber die Heilung dauert eine Woche. Ich habe dann gleich ein paar Tage darauf eine alte Krone samt Wurzeln ziehen lassen, sowie eine Knochen-Transplantation im Kiefer uber mich ergehen lassen (auch entsprechende Narkose), das ist nur eine Vorarbeit fuer ein Implantat, bzw. neue Krone. Kostspielig und dann auch noch schmerzhaft.
Am Freitag dann mussten wir beide Damen dann den Vater/Ehemann pflegen, der einen chirurgischen Eingriff am Daumen und Zeigefinger erleben musste und dabei auch am meisten litt. Teenie nennt ihn unsere Prinzessin, da er sich mit einer Hand nun zum kompletten Invaliden entwickelt hat. Nun ja, wir haben es alle ueberstanden und werden hoffentlich zum Ende dieser Woche wieder feste Nahrung zu uns nehmen koennen (bzw. kauen koennen).
What a week we have had. Wisdom teeth were taken out, Teenie did good and started eating solid food again. I had an extraction and bone grafting which is still bothering me a bit and husband had surgery on his right hand, making him a temporary invalid for whom we both swollen cheek girls have to care for.
Da man sich um mich am wenigsten gekuemmert hat (ich Arme, ich weiss), musste ich es mir dann doch selbst ein wenig gut gehen lassen. Ich habe mir die Haare getoent. Mit
Clairol
und zwar Farbe #12, Toasted Almond. Ja, das ist etwas besonderes, denn ich habe mich lange geweigert (drei Jahre), meine weissen Haare zu verstecken. Aber gestern hatte ich dann irgendwie selbst die Nase voll und es gefaellt mir sehr gut. Ein sehr huebscher gold/rotbrauner Ton, sieht aus als ob ich Highlights habe. Meine Naegel habe ich dann in einem aehnlichen braunton lackiert. Das geniesse ich immer am meisten. Nur dieses Mal habe ich auf das Glas Wein verzichten muessen, wegen der Medikamente.
I had to pamper myself as no one felt sorry for me. So after three years of being stubborn I finally colored my hair, a non-permanent color, I admit, but a very nice tone. Clairol - Toasted Almond. I like it and I was tired of my hair color. Not that I minded the white hair showing, the natural color looked boring and needed a little pick me up. Now it looks as if I have golden/brown highlights. I think I will stick with that.
Meine Jacke ist auch fertig und ich habe sie dann auch endlich fotografiert.
My summer sweater is done.
Pfauenfeder Jacke - Peacock Sweater
Startdate May 7, 2007 - Finished August 6, 2007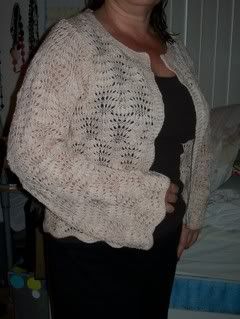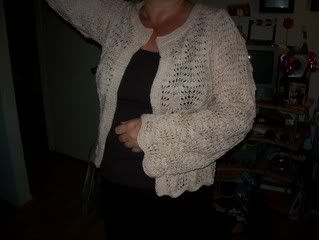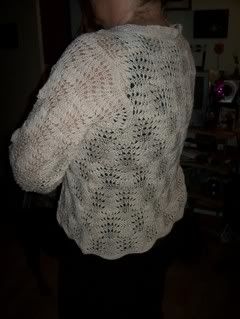 Ich habe die ruhige Zeit genutzt und mit meiner gelben Kurkuma-Wolle ein paar Socken angefangen. Es ging rasch voran.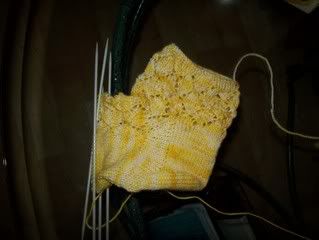 Started on socks with my 'Tumerick-Yarn"