Am Sonntag habe ich meinen kleinen Garten vor der Tuer wieder frisch bepflanzt. Die Tomaten waren schon ausgetrocknet und das Steinkraut sah auch nicht mehr so frisch aus.
Als ich dann ein paar trockene Blaetter aufraeumen wollte, raschelte es und dieses Monster rannte in die Ecke, dann die Wand hoch. Da bin ich aber aufgeschreckt und rein gerannt. Nachdem ich mich dann von meinen schwachen Knien erholt hatte, habe ich doch meine verschiedenen Pfefferminzpflanzen (apple, chocolate, pineapple) weiter gepflanzt, waehrend wir uns beide aber gut beobachtet haben.
Ich haette eigentlich schon Verdacht schoepfen sollen als ich eine handvoll leerer Schneckenhaeuser fand, dachte aber eine Maus hat unter meinem leeren Blumentopf gehaust. Nein, nun haben wir einen neuen Bewohner in der Ecke, auch gut, denn die Schnecken bleiben fern (und ich auch).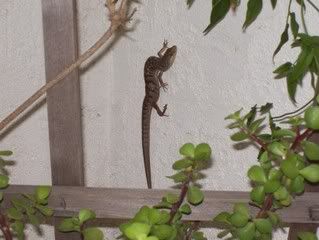 I kept busy with my 'container garden' on Sunday. Removing all the old plants. I had bought some new ones at Home Depot. A lot of mint - chocolate, apple, pineapple mint. Some thyme and some flowers too for a hanging basket. Anyway, I was clearing out some old leaves when suddenly there was a rustling sound and out krept this monster. You should have seen me squeal and jump inside. That really ruined my enthusiasm. I did finish the work, but we both kept eying each other. As it turns out this one is a San Diego Alligator Lizard. I should have been suspicious in the first place when I found a big heap of empty snail shells. I thought a mouse had a nest in the corner. Well, this new resident in my garden will keep the snails away (and me too).