Der Sommer ist heiss, fast zu heiss fuer die Tomaten, die wir bei Bekannten im Garten im Mai gepflanzt hatten.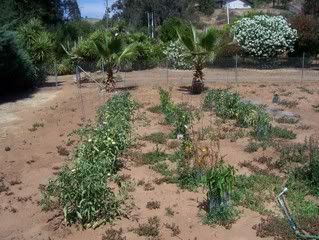 Die Pflanzen sehen ein wenig welk aus, aber sie haengen voller Fruechte. Leider hat dort niemand Unkraut gezupft und auch nicht so regelmaessig gegossen. Ich habe soviel geerntet, wie es halt schon moeglich war.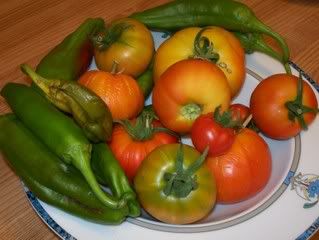 Die kleinste Tomate in der Mitte kommt von meiner Kuebelpflanze auf dem Balkon und sie hat wunderbar geschmeckt.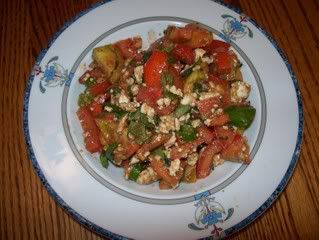 Aus dem ganzen habe ich einen Salat gemacht, mit Basilikum und Schnittlauch, auch von meinem Balkon und etwas Schafskaese, Salz, Pfeffer, Olivenoel und Balsamessig.
Wir warten auf die naechste Ernte.

Hot summer in Lakeside. The tomatoes need more water and someone has to get rid of all those weeds. Wish I could take care of this garden more often, but I am just a visitor. The tomato salad turned out great. The smallest tomato which was from my container plant, a cherry tomato, had the best flavor, but it all came together with the feta cheese, basil, chives, salt pepper, olive oil and balsamico. Put that on top of a nice slice of toasted bread, hmm hmm hmm.
*****************************************
Meine Strickjacke macht Fortschritt. Immer wieder musste ich zurueck und endlich war es dann soweit, dass ich die Trennung Vorder- und Rueckenteil beginnen konnte.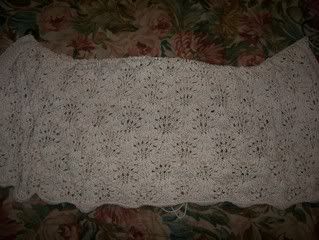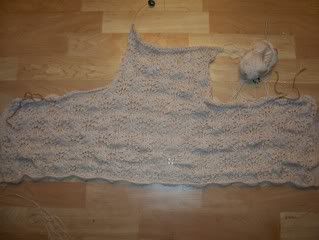 Finally I made it to the part where you divide the front (41 st. each side), sleeves (bo 29 st. both sides), back (67 st.).
I knitted the front band by adding 6 stitches on both sides right from the start. I think it turned out nicely. I prefer this to adding a band by picking up the stitches along the edge and knitting a few rows or crocheting a band.
I can't wait to get this finished as I have plans for new projects. But unfortunately no new yarn.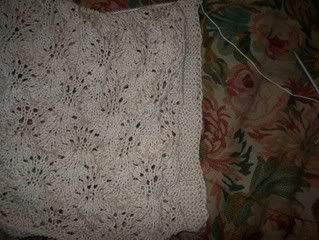 Das Buendchen habe ich gleich miteingearbeitet, indem ich 6 Randmaschen hinzugefuegt habe, gefaellt mir besser, als spaeter Maschen aufzunehmen und rundherum ein paar Reihen zu stricken oder zu haekeln.
Ich bin sehr in Eile, diese Jacke fertigzustellen, damit ich bald etwas Neues anfangen kann. Wie sieht es hiermit aus: Ballet Neck Twin Set!